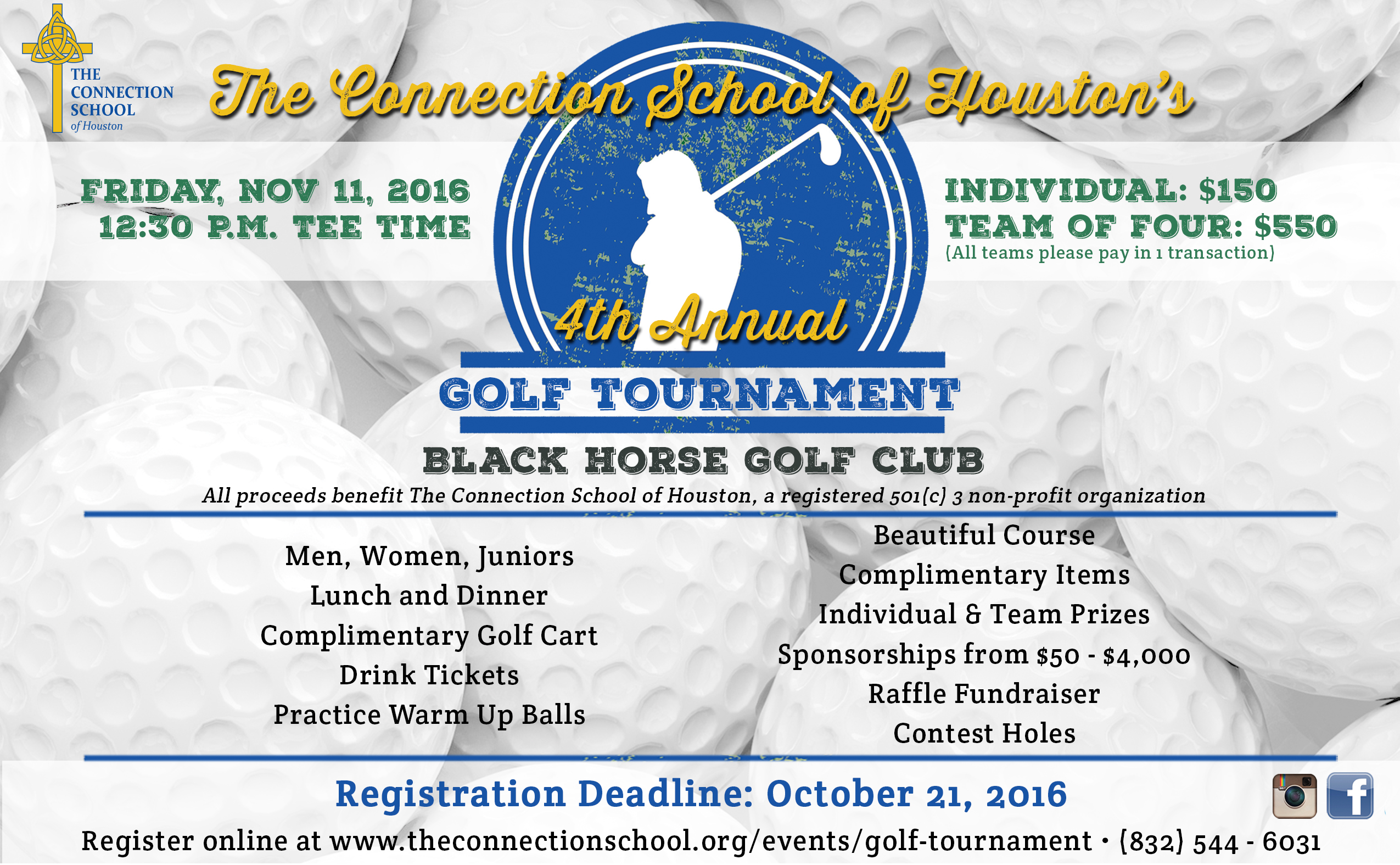 THANK YOU TO EVERYONE WHO SPONSORED, PLAYED, AND VOLUNTEERED IN THE CONNECTION SCHOOL'S 4TH ANNUAL GOLF TOURNAMENT
General
Join us for a Golf Tournament benefitting The Connection School of Houston on Friday, November 11, 2016. The fundraiser will take place at BlackHorse Golf Club in Cypress, Texas. Entry fees for an individual golfer are $150 and for a four person team are $550 and include lunch, dinner, golf carts, drink tickets, warm up balls, and more.
All proceeds benefit The Connection School, a registered 501 (c) (3) non-profit organization. Your donations may be tax-deductible.
For general information and questions, please contact Chad Legare at 832-544-6031 or clegare@tcsoh.org.
Features
18 Hole Shotgun Scramble on a Challenging and Beautiful Course
Lunch, Dinner & Drinks Provided
Men / Women /  Jr (12 & up)
Complimentary Golf Cart
Individual and Team Tournament Prizes
Sponsorships from $50 – $4,000 Available
Raffle benefitting The Connection School
Mulligans & Advance-the-Tee available for Purchase on the Course
Schedule
11:00AM – 12:30pm      Registration, Lunch, & Warm Up
12:30PM – 5:00PM      18 Hole Shotgun Scramble
5:00PM  – 6:30PM    Dinner, Award Ceremony, & Raffle
Venue
One visit to BlackHorse Golf Club, and you will know why it is considered one of the top public courses in the state of Texas. With two 18 Hole courses that provide landscapes like nowhere else in the Houston area, BlackHorse Golf Club is as challenging as it is beautiful.
We feature a variety of landscapes, including our notable South Course back nine quarry. Our courses are traditional in style, so you won't find a lot of housing. What you will find is a lot of mature trees – majestic oaks, live oaks, and pine – that offer an aged feel to our courses, well beyond its 2001 inception.
Our layout is superior and requires all the clubs in your bag. You can swing away with the driver on most holes, where others require careful consideration. You'll appreciate lots of changes throughout the course no matter your skill level. We have six sets of tees to accommodate golfers of all levels, Our players, are equally divided as to course preference, including both male and female alike. Ranked as one of the top facilities for women by the Houston Chronicle, the ladies who play BlackHorse love it!
BlackHorse Golf Club is located at 12205 Fry Rd., Cypress, TX. 77433. For more information about BlackHorse Golf Club, visit http://www.blackhorsegolfclub.com/ or call (281) 304-1747.
Sponsorships
We have varying sponsorship levels ranging from $100 to $4,000 and all contributions to The Connection School are tax deductible. We are also accepting "in-kind" donations of products and services valued at $50 or more for our competition prizes and raffle fundraiser. All sponsors benefit from advertisement opportunities to our tournament participants website visitors and many sponsorship levels also include player entries. See below for more information.
TCS 4TH ANNUAL GOLF TOURNAMENT SPONSORS
SPONSORSHIP OPPORTUNITIES
You may register as a sponsor using the registration form linked above. If you have questions about sponsorship opportunities, please contact Chad Legare at 832-544-6031 or clegare@tcsoh.org.
All sponsors will be advertised on The Connection School's golf tournament web page and given recognition during dinner presentation.
PLATINUM LEVEL ($4,000) 
Tournament entry for two (2) teams (8 players), including golfer fees ($1,000 value), carts, lunch and dinner for each player
Signage with name or company logo at one (1) hole
Ability to post full-size banner with your name or company logo on-site
GOLD LEVEL ($2,500) 
Tournament entry for one (1) team (4 players), including golfer fees ($500 value), carts, lunch and dinner for each player
Signage with name or company logo at one (1) hole
Ability to post full-size banner with your name or company logo on-site
SILVER LEVEL ($1,500) 
Tournament entry for one (1) team (4 players), including golfer fees ($500 value), carts, lunch and dinner for each player
Signage with name or company logo at one (1) hole
Ability to post half-size banner with your name or company logo on-site
BRONZE LEVEL ($750) 
Tournament entry for two (2) players, including golfer fees ($300 value), carts, lunch and dinner for each player
Signage with name or company logo at one (1) hole
Ability to post half-size banner with your name or company logo on-site
GOLF CART SPONSOR ($1,000) – Limited Availability
Tournament entry for for two (2) players, including golfer fees ($300 value), carts, lunch and dinner for each player
Name or company logo on all golf carts (one full course)
HOLE-IN-ONE SPONSOR ($1,000) – Limited Availability
Tournament entry for two (2) players, including golfer fees ($300 value), carts, lunch and dinner for each player
Signage with name or company logo at the contest hole
CLOSEST-TO-THE-PIN SPONSOR ($500) – Limited Availability
Tournament entry for two (2) players, including golfer fees ($300 value), carts, lunch and dinner for each player
Signage with name or company logo at the contest hole
LONGEST DRIVE SPONSOR ($500) – Limited Availability
Tournament entry for two (2) players, including golfer fees ($300 value), carts, lunch and dinner for each player
Signage with name or company logo at the contest hole
HOLE SPONSOR ($100) – Limited Availability
Signage with name or company logo at one (1) hole
PRIZE SPONSOR ($50)
Item or contribution valued at $50 or more